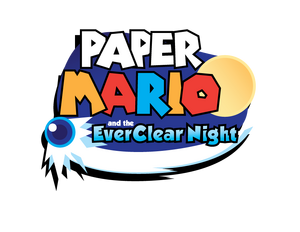 Welcome to the Paper Mario and the EverClear Night Wiki
Edit
This is the Wiki for the forum adventure, "Paper Mario and the Everclear Night." It's designed to help keep track of what has happened, what is happening and the information that has been revealed! It's as useful as you make it, so help out and create/edit pages!
Discussion Thread and Miscellany
To explore the wiki, check out the various categories at the bottom of the page.
What This Is
Edit
Paper Mario & the Everclear Night is a story written by David Burner, known online as gestaltScribbler. As its name suggests, Everclear Night is heavily influenced by the Paper Mario video game series, and takes place in the same universe. The story follows Booboo the boo, Shyla the shy guy, Clyde the goomba, and others on their adventures. Forum readers of the story can submit actions and suggestions for the characters of the story, and gestaltScribbler uses some or all to further the story in each update. With that in mind, gS has great plans, and guides the story his own way when it comes to important plot points.
Overall, Paper Mario & the Everclear Night is a great story with lovely art, fun characters , and a lot of interesting concepts. I hope you enjoy!
Latest activity
Edit
Community content is available under
CC-BY-SA
unless otherwise noted.