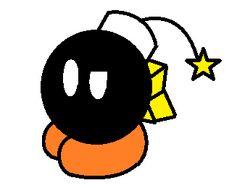 This unamed Bob-omb is from An Average Series, a comic that really hasn't gone past the first page that was made by MSPA user Shailsnic.
Humor Profile:Edit
45% Mend

+Compassion -Instability
+Selflessness -Insecurity
+Empathy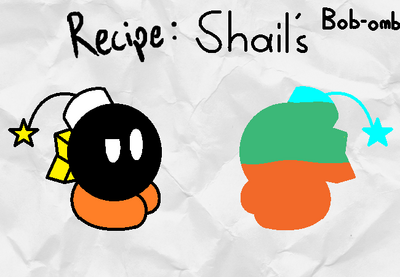 45% Aegis

+Steadfast -Stubborness
+Conviction -Recklessness
+Hope

10% Relief
+Generosity -Inaccessability
+Sincerity in feelings
Distinguishing Features:Edit
Personality and Interests:
Edit
Occupation:
Edit
He mostly just goes around and does some random jobs, ending up getting paid after doing so.
After showing a picture of this guy running a shop during one of the Everclear Night Livestreams, the concept of having another person's character run a shop was brought forth and used within the adventure.
Shailsnic believe that he can't force his character to do things or act a certain way, and that stuff just has to happen on its own. It is due to this belief, which actually is much more complex in reasoning than it seems, that this character currently lacks an actual backstory as of the moment. When he DOES get a back story, it'll probably be revealed in a large project Shailsnic is working on and will be revealed at that time.