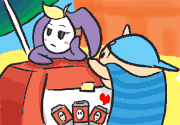 Shyla is a shy-guy of the soda-selling variety. She has a shop-on-wheels to sell the many sodas she concocts, each with delicious tastes and interesting special effects. Shyla was introduced as the second character in the story, when Booboo decided to buy a drink.
Interests and Personality
Edit
Shyla's personality consists of (from bottom to top) Aegis, Vision, and Mend humors.