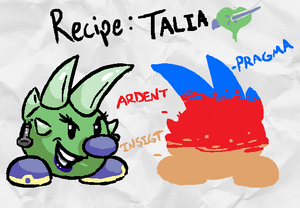 Talia the Tap-Tap is a canon character created by gesaltScribbler while following directions from the fans present during a livestream event. She has not yet been introduced to the story, but you can expect to see her soon!
Humor ProfileEdit
25% Pragma

Positives: Realism, Impartiality
Negatives: Rebelliousness

40% Ardent

Positives: Love, Anger, Zeal
Negatives: Infatuation, Rage

35% Insight
Distinguishing FeaturesEdit
Green coloration with purple nose, shoes, and lipstick
Mohawk-like spikes
Rivet earrings
Personality and Interests
Edit
Talia is always boisterous, loud, tough, and parties EXTREMELY hard. If there is a mosh pit ANYWHERE in the Mushroom kingdom, she's in the middle of it. She has a hard time getting her feelings across when she likes someone, and can be a little prickly, pardon the pun. If she does like someone, she will often try to impress them by showing off. (This backfires more often than not.)
(More to come)
Occupation
Edit
Unknown at this time.
Talia was created on 7/23/2012 during one of gS's livestream events by the fans that were present.
Talia probably holds the record for quickest fanart, since she recieved a piece done by Dexexe1234 before the soul-smithing process was even complete!