Waluigi was first mentioned as a cameo suggestion by MSPA user Edrobot. Like other canon characters he has not made an appearance in the comic, except to serve as an example of a "horribly failed mixture" to aspiring Soul-Smiths.
Personality
Edit
Waluigi's personality consists of (from bottom to top) Vision, Ardent, Mend, and Logos, with just the slightest hint of Dire. The use of this humor is said to be the reason Waluigi has such an aggravating and unstable personality, as his soul is otherwise a mostly healthy one.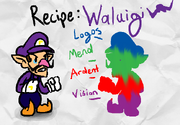 Waluigi serves as a warning to all to avoid using Dire in soul recipes.